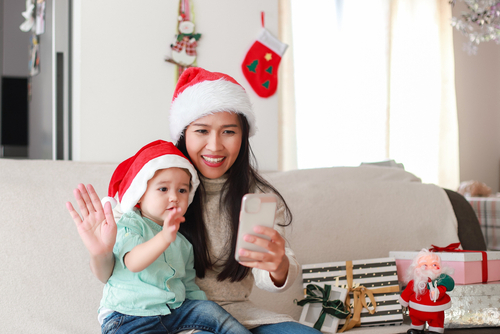 Holiday stress is at an all-time high this year because of the pandemic, and many of the silent strugglers are children. Although plenty of adults love the late-fall and winter holidays, this time of the year can feel magical to a child. Whether that means an evening with the grandparents, decorating your home, shopping for gifts, baking cookies, community events or watching a holiday-themed movie together, the end-of-year holiday season is special for kids.
But some of our favorite holiday activities won't happen this year because of COVID. That can lead to a lot of disappointment, stress and even holiday anxiety for your children. Although you may find it disappointing, your kids could have an even tougher time coping this year.
In her "Psychology Today" article entitled How to Help Children Cope with COVID During the Holidays, Julia Allen LCSW shares the following:
"The ongoing pandemic has impacted nearly all spheres of our children's lives, and the holiday season is not immune. This year will undoubtedly look different in terms of your family's plans, rituals, and celebrations, but fortunately, there's a lot parents can do to nurture resilience in their kids."
Although some things will be out of your control this year, you can still help your child cope and instill hope. Here are a few ideas to consider.
Show Your Child How to Handle a Very Different Holiday Season
Your child will likely mirror your reactions to the pandemic this holiday season. If you appear frazzled by canceled gatherings, economic uncertainties or political frustrations, your child will also feel that instability and it could interfere with their mental wellness. Although not entirely so, kids' mental health is greatly affected for good or bad by how their parents handle life adversity.
However, if you model healthy coping strategies, your child will be more likely to be OK with a different holiday season this year.
Healthy modeling doesn't mean ignoring one's concerns or disappointment. It's perfectly OK and healthy to discuss your frustrations, especially with older children. Doing so teaches them to process their life challenges in a healthy way. At the same time, you want to guard against letting your disappointment undermine your holiday time this year by fretting or ruminating too much over it.
Keep a Routine with Your Children
Even during previous holiday seasons, the lack of a routine for several weeks was sometimes tough on children (and their parents). Kids became used to their school routine and then Thanksgiving, Christmas and New Year's break drastically changed their schedule.
This lack of routine can lead to increased disagreements with other siblings and parents. It can also cause feelings of purposelessness for your child. The initial rest these breaks provide are a welcomed relief to any kid, but your child will need more structure after a few days.
This is all the truer during a holiday season where many of the events your child looks forward to are canceled. Do your best to maintain consistent bedtimes/waking times. Also, strive to keep your mealtimes consistent with crafts, exercise and other activities in between. Doing so could significantly reduce 'Christmas stress' or 'Christmas anxiety' in your child.
Encourage Socialization
Social isolation is an added concern this holiday season since gatherings will be slim to none. But your child still needs to socialize to stay mentally healthy.
Due to the pandemic, give your child some added encouragement to pick up the phone and call a friend. Also, encourage your child to participate in Zoom or Facetime calls with friends and family. The result will be happier, healthier children.
Be Intentional About Family Time
It's easy to allow one day to blend into the next as everyone goes about their routines. Before you know it, the holidays are over and you wonder if there was as much meaningful family interaction as you initially hoped.
Because of this, find creative ways to strengthen your family through fun activities. That could include:
Making some fun snacks
Exercising as a family
Watching a movie
Playing a game together
Decorating as a family
Helping someone less fortunate
Are You or Your Child Experiencing Holiday Stress? Consider Counseling
One of the best ways to help your child cope with the pandemic holiday season is to prioritize your mental health as a parent. Depression and anxiety can strike during the holidays for you or your child. If you're mentally healthy, your child will likely struggle less with anxiety during the holidays too.
If you're having a challenging holiday season, don't hesitate to reach out for help. We all struggle at times in our lives. Valencia Relationship Institute is here for your family's mental health needs. We offer evidence-based counseling in Valencia, CA and counseling in Toluca Lake/Burbank, CA. During the pandemic and in the future, virtual counseling (video therapy) is also available.
Our team provides:
Family counseling
Relationship counseling
Marriage counseling
Individual therapy
Feel free to schedule an appointment with us. We look forward to meeting you!